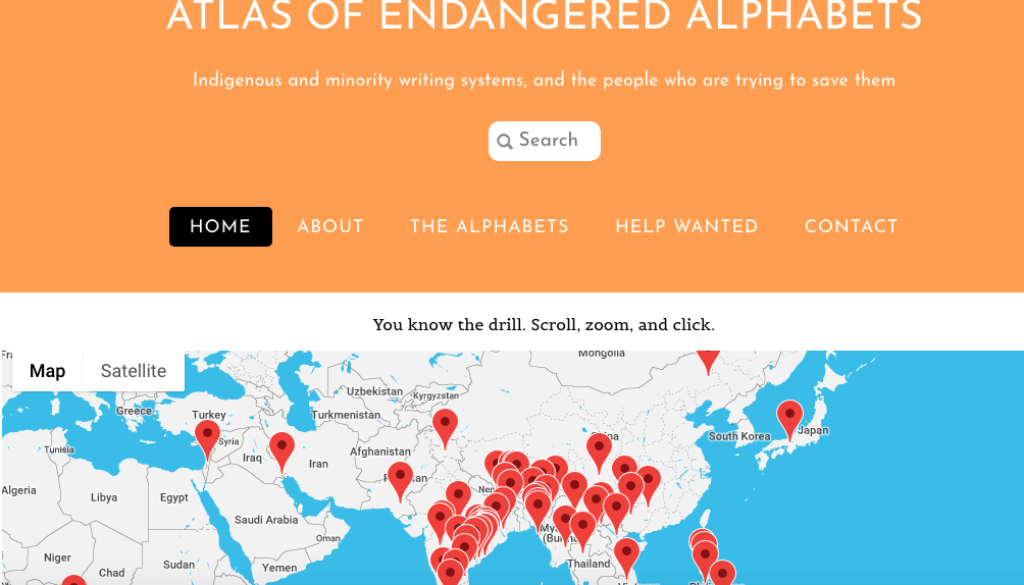 Over the last several years I've been supporting various Kickstarter campaigns designed to preserve languages and writing systems from around the world that are in danger of disappearing. These projects have involved quite a few extremely enjoyable efforts aimed at teaching the scripts associated with indigenous languages or mother tongues in countries often dominated by cultures not necessarily in sympathy with native folk. I'll list these with links later, but wanted to take time this morning to alert you all to the latest campaign, described in the above video.

We're about half way to the goal at this point, with not much time left to meet it; so, if you're so inclined and have a bit of spare cash available for an enormously important good cause, please watch the video and go to the Atlas of Endangered Alphabets home page to support the Atlas. As always, there are some nice rewards, although this time I opted just to support the project without snagging any loot. Even if you're not familiar with many of the cultures involved, keep in mind that a number of these endangered scripts are associated with Native American languages.

As Tim Brookes, the founder of the Endangered Alphabets project, mentions in the video, this is an ambitious and expensive project--but I think it's particularly timely in today's fragile political climates.

Addendum (30 September): Here are the Kickstarter pages for the previous campaigns:


Endangered Alphabets

Endangered Alphabets II: Saving Languages in Bangladesh

Mother Tongues

The Right To Read, The Right To Write
100 Words for a Children's Endangered Language Dictionary
And here are my posts about some of the projects:
As many of us who have taught in the past well know, language is fragile. If not nurtured, and used well, speakers tend to lose fluency, vocabularies decrease, and the ability to read the great literature of one's own tongue diminishes. The downward spiral can be slow, but often seems inexorable. I urge folks to spend some time on these pages (particularly the Kickstarter efforts) to get an idea of just how important this work really is.

Tonight the Beloved Spouse and I will be attending a Gala in honor of the 40th anniversary of the Center for Translation Studies at UT Dallas, where we were both students. One of the most significant influences on my pedagogical career was the idea of teaching humanities using the translation process as a model--which I learned under the tutelage of Dr. Rainer Schulte, who founded the program in 1978. It seems fitting that this milestone be celebrated at a time when cultural understanding has become so vitally important to political interaction around the world.
The Atlas of Endangered Languages provides an important tool to facilitate that understanding, and I hope that anybody still reading this blog who is interested in its language-related components can help make the Atlas a reality.